Cat lovers are common around our planet, but it seems that in some areas they gather a little thicker. Although cat people tend to find their way through their obsession with cats, you may find it easier in some areas thanks to a higher population of cat lovers. And more cat lovers mean more kitties!
Petlisted's animal lovers scoured the city records to find out which cities in the US are considered the most cat-friendly.
Find out if your city made the list. If not, maybe it is time to think about something new that your feline love can really be appreciated!
@ rauncheal / Instagram
The top 5 most cat-friendly cities in the United States
To compile the list of cat-friendly cities, Petlisted used multiple data sources from the US 100 most populous cities and stated, "These metrics included the number of cat-friendly accommodations in a city, the number of AAFP-certified veterinary practices for cats. the abundance of local animal shelters and welfare groups, as well as the number of pet stores selling cat products. "
# 1 – Birmingham, Alabama
Birmingham loves their cats! This southern city has everything cat families need. From the American Association of Feline Practitioners (AAFP) clinics to cat retailers, this 11th largest city in America is a cat wonderland as "81% of all available rentals" allow cats.
# 2 – Portland, Oregon
The cat lover's haven in the Pacific Northwest, Portland has almost supplanted Birmingham, but this largest city in Oregon had fewer pet stores compared to other states.
@ bluesy8810 / Instagram
# 3 – Madison, Wisconsin
Madison, the 82nd largest city in the US, ranks 3rd for cat-friendliness because the city "has the second highest number of AAFP-certified veterinarians per capita in the country".
# 4 – Richmond, Virginia
Richmond may be just the fourth largest city in the VA, but when it comes to cat grooming, the city "does best with animal shelters, welfare groups and certified cat veterinarians."
@ ameris_poquette / Instagram
# 5 – Minneapolis, Minnesota
Minneapolis is the 45th largest city in the country and has many pet stores and a number of animal rights groups. Also, most housing options allow cats as a policy.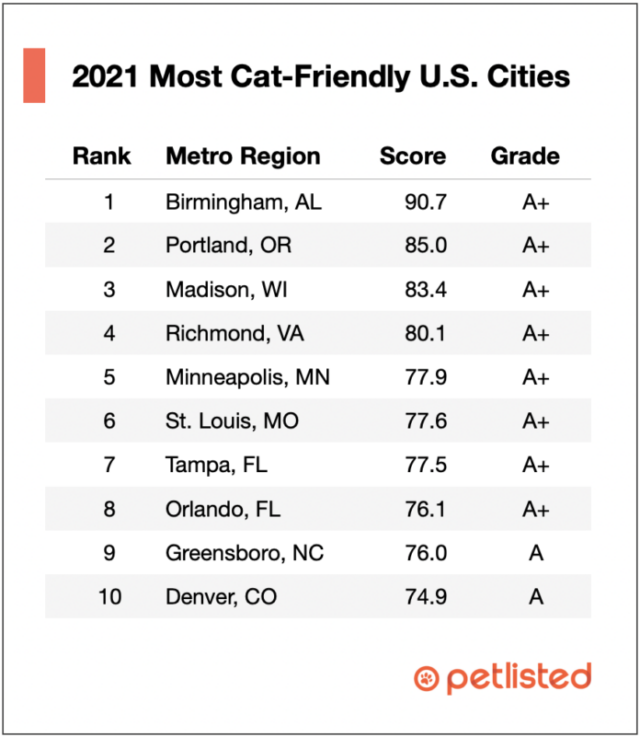 Courtesy of Petlisted
Rounding out are the 25 best cat-friendly cities in the United States
Didn't find your city in the top 5? Check cities 6-25 to see if your hometown is a cuckoo for cats:
St. Louis, MO
Tampa, FL
Orlando, FL
Greensboro, NC
Denver, CO
Fort Wayne, IN
Baton Rouge, LA
Seattle, WA
Omaha, NE
Tulsa, OK
St. Paul, MN
Sacramento, CA.
St. Petersburg, FL
Reno, NV
Cincinnati, OH
Scottsdale, AZ
Pittsburgh, PA
Indianapolis, IN
Albuquerque, NM
Wichita, KS
If your city isn't on the list of the 25 Best Cat Friendly Cities, don't fret. Cat lovers can be found everywhere. Just follow the cat hair to find it!
@ ladywanderlust.ig / Instagram
Please SHARE to pass this story on to a friend or family member.
H / T: www.thrillist.com
Feature image: @ ladywanderlust.ig / Instagram