A few years ago, the writer Margaret Atwood decided to write about cats. Her revered bibliography includes The Handmaid's Tale – a dystopian book that went on to become a hit TV series – but for her new project she has devoted herself to the medium of graphic novels.
In cooperation with the illustrator Johnnie Christmas, she made the Angel Catbird in 2016, in which a partial cat and partial bird superhero can be seen who lives in a futuristic world. It's a story that was partly inspired by her childhood days drawing "flying cats with wings," as she told me during an interview at the time the book was published.
Cat fantasies
A group of cat-oriented graphic novels has emerged since Angel Catbird was released. Also from 2016, the writer Sam Sattin and the artist Chris Koehler researched animals that survived in a post-apocalyptic kingdom for Legend: Defend The Grounds. The series begins with a group of dogs roaming a depraved environment before a powder is introduced to competing cats commanded by their leader, Bagheera.
"The dog tribe is more democratic and forms a kind of oligarchy, while the cats are more dictatorial and have a monarch at the top," Sam explains the dynamic between the clans. The cats also like to insult their dogs with barbs such as "superstitious poop eaters". Chris adds that he has used varying degrees of saturation in his illustrations to reflect the different personalities of the tribes: "The dogs are more optimistic and amazed, and the cats are more cynical and grounded."
Other graphic novels have adopted a similar concept of taking cats to futuristic realms. Captain Ginger debuted in 2019 and features kittens navigating a hostile universe aboard an interstellar ship. The project was conceived by writer Stuart Moore (who contributed to the Batman and Deadpool franchises) and artist June Brigman (best known for her work with Marvel Comics). "I love cats and I love space," explains Stuart when asked about the inspiration for the book.
Captain Ginger was also influenced by the creators' own cats. Stuart propped the captain on his feline brooch. "Like most gingers, he's pretty loud and demonstrative," he says. June revealed that Buddy – "the cat in charge of the litter box" – was based on a rescue who had a "wild eye" and missed part of an ear, but was "as cute as possible".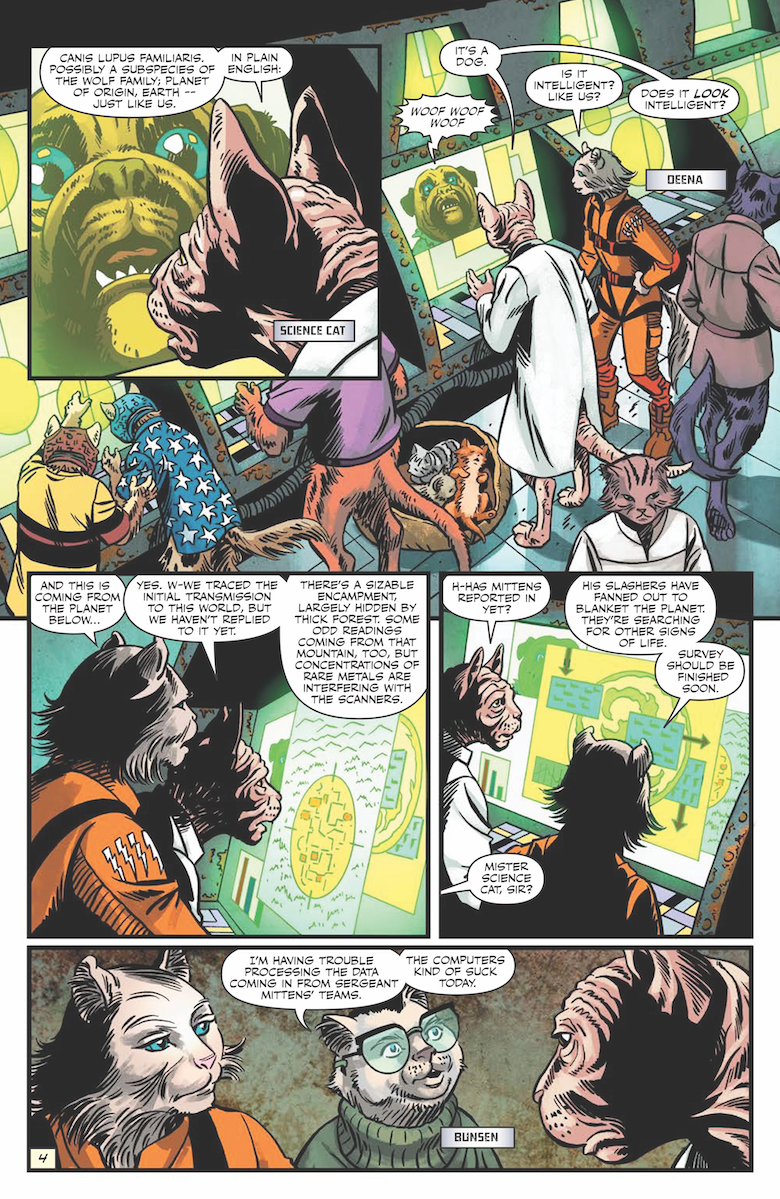 Cats in comics mean stories with a heart
Visual novels often channel the fantasy element of life with a cat. Who hasn't noticed that their cat is sitting in a cardboard box and imagining that they are traveling across the wild seas on a pirate ship? But with kitty comics, authors can also convey emotional topics through a cat lens.
Released in 2018, Nancy Peñas Madame Cat has a whimsical take on adopting a cat who will decide she's the owner of her human. The idea came up when Nancy brought her 3 month old kitten Madame home and "watched a lot of stupid things that made me laugh [so] I wanted to draw them to remember them. "Nancy describes Madame as" very cuddly, but not very smart "- a characterization she depicts in a loving style.
In a more heartbreaking way, Ursula Murray Husted's 2020 A Cat Story was inspired by a trip to Malta to aid her father's recovery from lymphoma. Ursula noticed the number of stray cats on the docks and wondered, "What? [the cats] sought "in life.
So she wrote a story about Cilla and Betto: the former cat "believes that life will only be complete if it finds a typical quiet garden out of a kitten story," and the latter "is happy to have a cat on the docks be". Cilla and Betto travel to find a place where they can both be happy – and Ursula suggests that humans and cats share the same basic goals.
"We want to love and be loved, we want to be warm, full of good food, and keep our friends and family safe," she explains. "Writing a cat figure is similar to writing a human figure – only more blurred."
Read Next: How To Get Your Cat In Movies